Dual Credit Programs Marketing Guidelines
For information regarding logo usage, branding and graduation stole guidelines, please contact:
Dr. Rebecca De Leon
Associate Vice President for Dual Credit Programs & School District Partnerships
956-872-2607
rdeleon_8106@southtexascolege.edu
Dual Credit Graduation Stole Guidelines
Please follow the appropriate color combinations shown in the samples below, using either full-color, gold, or blue inks. Email Jennifer Solis at jlsolis@southtexascollege.edu for details regarding high-resolution logo files for printing.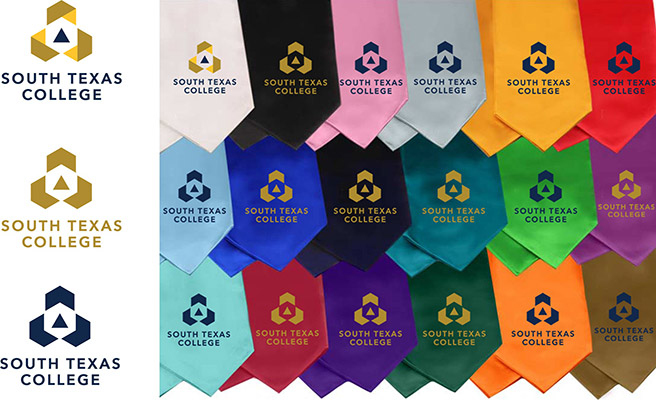 Dual Credit Graduation Day Guidelines
One representative per school district is allowed access to assist students with backstage graduation prep. Each ISD will be given one pass to enter backstage area and the floor only.
Adhere to the boundaries placed on the floor to avoid disruption of ceremony. No photographers or videographers other than STC faculty will be allowed on stage.
Keep students in their designated lines and avoid pulling graduates out of ceremony.
Please return pass at the end or before the ceremony.
Consider using the hashtag #STCGRAD, #STCdoubleup, and/or #STCdualcredit when posting photos of graduation day to social media.