Regional Center for Public Safety Excellence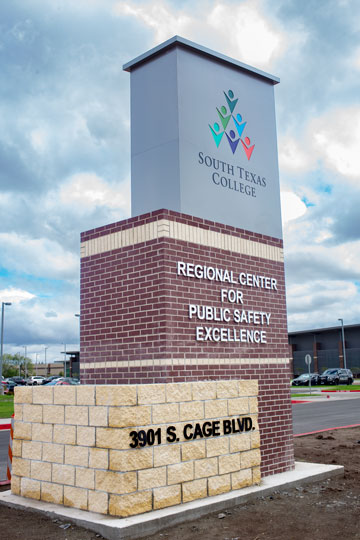 The demand for highly skilled professionals in public safety, law enforcement, fire science and homeland security is increasing rapidly and South Texas College is poised and ready to meet the demand, now!
Construction is currently underway for the highly anticipated Regional Center for Public Safety Excellence (RCPSE), located at 3901 S. Cage Blvd. in Pharr.
The new RCPSE will make South Texas College the first border community college in the nation to establish integrative training for local, state and federal professionals in law enforcement, public safety, fire science and homeland security (In Development) along the US/Mexico border. Current and prospective agents or officers will be exposed to real-world scenarios by professionals with experience on the front lines of border security.
"The spectrum of courses offered will cover all the needs of our region," said Mario Reyna, Dean for Business and Technology at STC. "Traveling to College Station or San Antonio for specialized training will be a thing of the past."
The $71.28 million dollar long-range master plan—which will transform the regional center to a Public Safety, Law Enforcement, Fire Science, and Homeland Security Campus by 2030—is on a 64-acre site, in Pharr, Texas with 180 additional acres available for future expansion.
The Master Plan will include 534,385 square feet of buildings, structures & driving track, and will be completed in three phases over the next decade. Upon completion, the Regional Center for Public Safety Excellence will be unlike anything ever seen in South Texas & the border region. This is where world class instruction will meet world class training facilities!
Phase One is a $9.9 million dollar investment, set for completion in the Fall of 2018. It includes a spacious training center for Law Enforcement, Public Safety & Criminal Justice students, a driving skills/skid pad, a shooting simulation lab and a driving simulation lab.
Phase Two is a $10.6 million dollar investment in Fire Science & Homeland Security. Planned in this Phase are a multi-story fire training structure, two story residential training structure and a confined space/search and rescue training area, flashover training and a flammable liquid and gas training pad. Phase Two also includes an Emergency Vehicle Operations Course (EVOC), a cityscape with non-lethal simulation training capacity, and a covered shooting range with a firearm training classroom.
Phase Three is a $50.6 million dollar investment in Integrative Homeland Security and will add a Physical Plant and expansive growth with the addition of several education and student services buildings.