Your College Credits are Waiting.
Career and Educational Pathways for Law Enforcement Professionals
South Texas College offers credit for the training and experience you already have, giving you a great headstart toward a degree.
Upon successful completion of two designated courses, you'll receive additional escrow credits to be used toward our Associate of Applied Science in Law Enforcement.
Find out how you can turn your training into college credits:
Request Details How to Apply
Affordable Tuition
At STC we've built a reputation for low tuition rates while prioritizing our quality of instruction.
Earned Credit
You've put in the time and energy to get where you are - now you can earn college credit for it.
Tuition Assistance
Take advantage of your employer's tuition reimbursement plan. We'll work with you to make your education more affordable.
Accessible
Our online classes can be accessed any time, anywhere, so you can get your education where and when you need it.
For Admissions Information: Salvador Hernandez
Student Completion Specialist

956-872-2158
Email: shern158
For Law Enforcement Program: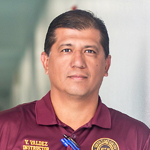 ---
Find out how you can turn your training into college credits:
Request Details How to Apply