Active Military or Reservists Benefits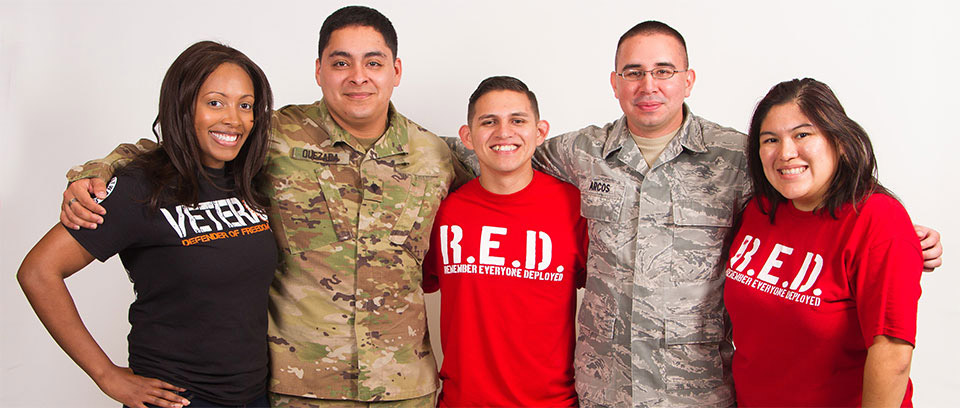 Individuals currently serving on active duty or with a reserve component may be eligible for federal and/or state benefits. Reserve and National Guard Servicemembers may choose to attend college full-time while serving. Active duty Servicemembers can receive benefits to participate in off-duty educational activities.
Active Duty Military Tuition
South Texas College is proud to offer our active duty service members a flat tuition rate. Eligible students will be offered a flat tuition rate that extends to their spouse and dependents. If you are active duty military and Texas is your "Home of Record" at the time of entry into service, then you are eligible for Texas Resident Tuition. If you are active duty military and Texas is not your "Home of Record" and you are assigned to duty in Texas, you may be able to change your residence to Texas for in-state tuition rates. Please contact your South Texas College recruiter for more information.
Active Duty Military Tuition Info Page
Chapter 1606 – Montgomery GI Selected Reserve (MGIB-SR)
The MGIB-SR program provides education and training benefits to eligible members of the Selected Reserve. Eligibility for this program is determined by the Selected Reserve components and VA makes the payments.
Check Eligibility and Benefits  |    Checklist for new/returning students  |  STC VA Educational Benefits and Responsibilities Info Packet   |  STC VA Benefits Agreement Form
The Tuition Assistance
(TA) program provides financial assistance for voluntary off-duty education. TA generally only covers the cost of tuition associated with each approved course, fees and books are not included in the approval. Students must be following a program of study and be currently enrolled in courses prior to applying for TA. TA must be requested prior to the start date of the course, requests received after the start date cannot be approved. Procedures for applying for TA vary by branch of service and students are encouraged to contact the Educational Service Office with their respective branch of service for assistance. Servicemembers interested in utilizing TA can find steps to apply with their branch of service at the links below.
State Tuition Assistance
The State Tuition Assistance Program is an education benefit reimburses eligible members of the Texas Military Department with out-of-pocket expenses for tuition and mandatory fees. Students are responsible to the school for all charges at the beginning of the semester. If all steps are followed, after the semester is over an award payment is sent to the school.
Check Eligibility and Benefits  
General Education Mobile (GEM)
The General Education Mobile (GEM) program is a partnership between the Community College of the Air Force (CCAF) and South Texas College that is designed to help U.S. Air Force members fulfill their general education requirements and complete the CCAF Associate of Applied Science (AAS) degree requirements.
General Education Mobile Info Page