Fire Academy - Basic Firefighter Certification
Our Fire Academy can bring you closer to a brighter future by preparing you to take the Texas Commission on Fire Protection (TCFP) firefighter license examination.
This program will provide training to newly hired firefighters from the local departments as well as provide ongoing training to current veteran firefighters who serve in either a professional or volunteer capacity.
Fire Academy Admission Requirements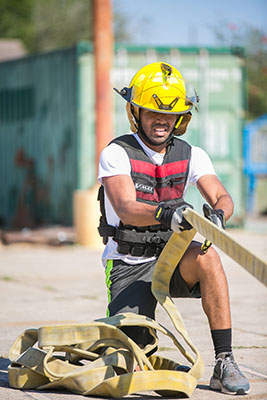 Must be 18 years old
U.S. Citizen or a Permanent Resident
Honorable discharge from the military (if applicable)
Not been convicted of a Class A Misdemeanor or above
Not been convicted of a Class B misdemeanor within the last 10 years
GED or higher
Physical fitness exam
An application for the fire academy also needs to be filled out in addition to the application to South Texas College in order to be considered for the program. 
Applicant Qualification Section
Fire Academy Application Form
Fire Academy Agility Test
The physical agility test consists of rowing 2000 meters on a Concept 2 rowing machine with the resistance set to 5. The time that the applicant will need to complete the test will be determined by using a fitness calculator that the DPS website provides:
https://www.dps.texas.gov/ETR/concept2RowerCalc.htm
---
Taking application now! Please call 956-872-4200 for more information.
Location:
Regional Center for Public Safety and Excellence
3901 S. Cage Blvd.
Pharr, TX 78577
Tuition Exemption for Firefighters Enrolled in Fire Science Courses
This program provides an exemption from tuition and laboratory fees to eligible persons employed as firefighters by a political subdivision of this state or who are active members of an eligible organized volunteer fire department in this state. Texas Education Code, § 54.353
Visit College for All Texas for more information.
---
Basic Firefighter Certificate
TSI EXEMPT
Plan of Study Grid
First Semester
Credit Hours
FIRS 1301
Firefighter Certification I
3
FIRS 1407
Firefighter Certification II
4
FIRS 1313
Firefighter Certification III
3
FIRS 1319
Firefighter Certification IV
3
FIRS 1423
Firefighter Certification V
4
FIRS 1203
Firefighter Agility and Fitness Preparation
2
FIRS 1329
Firefighter Certification VI
3
FIRS 1433
Firefighter Certification VII
4
 
Credit Hours
26
 
Total Credit Hours
26
Contact Fire Science Program
Megan Olivares
Regional Center for Public Safety Excellence
3901 S. Cage Blvd. Pharr, TX 78577
Phone: 956-872-4200
Rolando Solis
Student Success Specialist
Technology Campus A-153
Phone: 956-872-6164