Fire Science
Firefighters are trained to do their job anywhere; whether it's in rural zones, forests or urban areas. The work can be exceptionally demanding and challenging at times, but it's one of the most rewarding jobs around. If you're ready to make a difference in your community and provide help for those in need, South Texas College can help you get there.
Get Started at STC!

1-855-Go-To-STC
Potential Jobs
Firefighter
Fire Officer
Deputy Chief
Fire Safety Specialist
Fire Lieutenant
Fire Inspector
Fire Captain
Tuition Exemption for Firefighters Enrolled in Fire Science Courses
This program provides an exemption from tuition and laboratory fees to eligible persons employed as firefighters by a political subdivision of this state or who are active members of an eligible organized volunteer fire department in this state. Texas Education Code, § 54.353
Visit College for All Texas for more information.
Contact Fire Science Program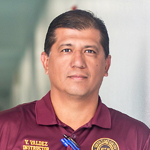 Department Chair
Victor Valdez
Regional Center for Public Safety Excellence 1.002C 
956-872-4201
---
Department Contact
Amy Espericueta
Regional Center for Public Safety Excellence
3901 S. Cage Blvd. Pharr, TX 78504
Phone: 956-872-4200
Undecided? Explore Career Choices