Culinary Arts
Do you remember when you fell in love with cooking? Was it the first time you heard the sizzling of the grill? Or perhaps it was watching it all come together; from the moment you read the recipe to the moment your food hit your tongue. Your love for cooking is great, but making it a successful career is even better!
With South Texas College, your passion can help shape your future. Our skilled Culinary Arts instructors will guide you through the process of being the best you can be in the kitchen. Training begins at foundational skills and builds up to advanced preparation techniques. As you progress through the program you will be exposed to new products, develop and improve technical skills, and grow in knowledge and confidence so that upon completion you will be prepared to take the food industry by storm.
The Culinary Arts Program offers two certificates and two associates plus the opportunity to train and learn with industry-grade facilities you can expect in the real world.
Get Started at STC!

1-855-Go-To-STC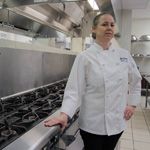 Chef Jennifer Guerra
I have always loved cooking. Yes, I was the girl who always wanted to be in the kitchen, right next to my mom, doing whatever little task she would allow me to get my hands on. So, when I was 13, my mom had a friend give me a job in her restaurant. This just ignited my passion for cooking. I worked every position in the restaurant until I graduated High School. One week later, I was off to the Culinary Institute of America, in Hyde Park, NY. After I received my degree, I worked at a small restaurant in the Chicago Area as their Pasty Chef. Then as my career progressed, I have worked as a Chef in catering companies, fine dining restaurants, and Hotels. I was the Executive Sous Chef for La Mansion del Rio in San Antonio before I was recruited to the Rio Grande Valley as the Executive Chef of the Embassy Suites. Most recently I was both the Director of Kitchen Operations for both Republic of the Rio Grande and Santa Fe Steak House in McAllen, where I was also worked as their Pastry Chef. I remain ever passionate about Culinary Arts, and I am excited to share my knowledge and experience with the students at South Texas College.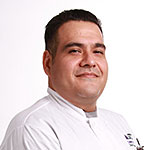 Chef Ruben Lemus, Jr.
...
---
Contact Culinary Arts Program Undecided? Explore Career Choices