General Education Mobile (GEM)
The General Education Mobile (GEM) program is a partnership between the Community College of the Air Force (CCAF) and South Texas College that is designed to help U.S. Air Force members fulfill their general education requirements and complete the CCAF Associate of Applied Science (AAS) degree requirements.
South Texas College offers a diverse selection of general education courses in oral/written communication, mathematics, social sciences and humanities that are pre-approved by CCAF to meet the 15 general education credits students need for their AAS degree.
We look forward to supporting you in your academic journey!
Resources
Available Courses
Oral Communication
SPCH 1311 Introduction to Speech Communications
Written Communication
ENGL 1301 Composition I
ENGL 1302 Composition II - Rhetoric
Mathematics
MATH 1332 Contemporary Mathematics
MATH 1414 College Algebra
MATH 1442 Elementary Statistical Methods
Social Science
HIST 1301 United States History I
HIST 1302 United States History II
PSYC 2301 General Psychology
Humanities
ARTS 1301 Art Appreciation
MUSI 1306 Music Appreciation
PHIL 1301 Introduction to Philosophy
Accreditation
South Texas College is accredited by the Southern Association of Colleges and Schools Commission on Colleges (SACSCOC) to award the Baccalaureate and Associate degrees. Questions about the accreditation of South Texas College may be directed in writing to the Southern Association of Colleges and Schools Commission on Colleges at 1866 Southern Lane, Decatur, GA 30033-4097, by calling (404) 679-4500, or by using information available on SACSCOC's website (www.sacscoc.org).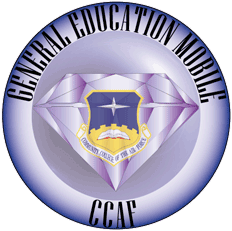 Questions?
Program Contact Note: The appearance of U.S. Department of Defense (DoD) visual information does not imply or constitute DoD endorsement.