A History of Excellence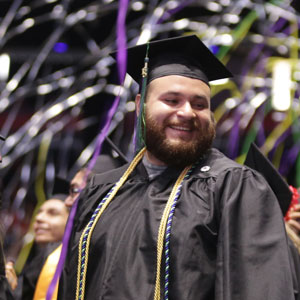 Achievements, Awards, National Rankings & Accreditations
South Texas College has continued its tradition of being recognized and honored for its dedication to excellence and its innovative endeavors. The College has received numerous awards from national, state and local organizations that confirm the college's leadership among the community colleges in the State of Texas and the nation.
Achievements
Over 28,000 students each semester on 5 campuses, a Regional Center for Public Safety Excellence, two Higher Education Centers, and a virtual campus.
Over 137 degree and certificate options, and 36 fully online programs.
Authorized by the Texas Higher Education Coordinating Board to offer Bachelor of Applied Technology and Bachelor of Applied Science degrees.
South Texas College was granted the legislative authority by the passage of SB2118 during the 85th Legislative Session to offer the Bachelor of Science in Nursing.
In 2022, the STC Foundation was established to benefit and provide assistance to the college through the cultivation of outside resources to meet the needs of all students. 
Created the STC Promise program to provide dual-credit students, from the College's 21 partnering school districts, a last-dollar scholarship, to cover 100% of their tuition and fees, beginning fall 2023.
Procurement of more than $250 million in local, state, and federal grant monies to fund student success initiatives, scholarships, and workforce training programs.
Pioneered tuition-free dual enrollment to over 130,000 high school students at 70 school sites, saving families over $340 million million in tuition since 2000.
South Texas College leads the nation in the number of partnerships that it has developed with area Independent School Districts, which includes collaborative partnerships with 21 school districts, 70 high schools, 56 middle schools, and 180 elementary schools.
STC Dual Credit Program is the first in Texas to receive the prestigious accreditation by the National Alliance of Concurrent Enrollment Partnerships (NACEP), the sole national accrediting body for concurrent enrollment partnerships. This accreditation assures graduates and transfer colleges and universities that STC's program is among the best in the nation.
Established the Office of Industry Training and Economic Development designed to develop the regional workforce, foster long-term economic growth, and be an international leader in industrial training and credentialing.
Became the nation's first Festo Certified Training Center for Robotics and Automation.
Became the first in Texas to develop Career and Educational Pathways for Law Enforcement Professionals in partnership with the Federal Law Enforcement Training Centers (FLETC), U.S. Field Operations Academy, and U.S. Border Patrol Academy.
Established the Regional Center for Public Safety Excellence and became the first border community college in the nation to establish integrative training for local, state and federal professionals in public safety and homeland security (In Development) along the US/Mexico border.
Developed the JagExpress in partnership with LRGVDC to provide free shuttle service with Wi-Fi, connecting five campuses across Hidalgo and Starr counties.
Designated by the American Welding Society as one of only six Accredited Testing Facilities in the State of Texas and one of only two accredited institutes of higher education.
 Awards
2022 recipient of a Military Friendly School Gold Award by VIQTORY for six consecutive years and awarded a Military Friendly Spouse School recognition for the first time in 2022.
Awarded the Certificate of Achievement for Excellence in Financial Reporting by the Government Finance Officers Association, for fiscal year end 2020 for the 18th consecutive year.
2020 Theodore M. Hesburgh Award for Leadership Excellence in Higher Education awarded to Dr. Shirley Reed, President of South Texas College, in recognition of her outstanding leadership qualities and vision in guiding higher education forward.
Recipient of the 2019 Seal of Excelencia by Excelencia in Education. The Seal of Excelencia documents South Texas College has intentionally implemented evidence-based practices to achieve and exceed the success metrics for all Hispanic students.
For the first time, STC was awarded the Certificate for Outstanding Achievement in Popular Annual Financial Reporting by the Government Finance Officers Association, for fiscal year end 2020.
Received the Government Treasurers' Organization of Texas Certificate of Distinction for the sixth consecutive year in 2018. The certificate was issued for the District's success in developing an investment policy that meets the requirements of the Public Funds Investment Act and is effective for a two-year period ending August 31, 2020.
2019 Pioneer Award from the Community College Baccalaureate Association in recognition of progress toward making baccalaureates accessible to all.
In 2019, STC was recognized by United Way as #1 State of Texas Supporter for employee charitable contributions.
 National Rankings
Ranked 5th Best Online College in Texas by UniversityHQ in 2023.
Ranked 2nd in the nation in 2023 for most affordable online Bachelor Degrees by The Community for Accredited Online Schools (AccreditedSchoolsOnline.org)
Ranked 6th for Safest College Campus in Texas and 12th for Best College Location in Texas By NICHE in 2023.
In 2022 College Advisor.com ranked South Texas College:


3rd most affordable Texas college for Texas residents.
5th most affordable Texas college for non-Texas residents.

For the 2020-2021 Academic Year, Hispanic Outlook ranked South Texas College:


2nd in the nation in awarding associate degrees to Hispanic students as a proportion of all associate degrees granted.
3rd in the nation for awarding the largest number of Associate Degrees to Hispanics.
6th in the nation for enrolling the most Hispanics among the nation's 4-year institutions.

Excelencia in Education's 2020 Latino completion study, ranked South Texas College:

1st in Texas for enrolling and graduating Latinos.
2nd in the nation for awarding Associate Degrees to Hispanics.
3rd in the nation in Hispanic undergraduate enrollment.

Diverse Issue in Higher Education's 2020 list of "Top 100 Degree Producers" ranked South Texas College:

1st in the nation in awarding Associate Degrees to Hispanic students in Education, Engineering, and Mathematics.
2nd in the nation in awarding Associate Degrees to Hispanic students in all Disciplines.
 Accreditations
Southern Association of Colleges and Schools Commission on Colleges accreditation to award Baccalaureate and Associate degrees
Accreditation Council for Business Schools & Programs
Accreditation Council for Occupational Therapy Education
American Society of Health-System Pharmacists
Accreditation Commission for Education in Nursing
Accreditation Council for Pharmacy Education
ASE Education Foundation
College Reading & Learning Association International Tutor Training Program Certification
Commission on Accreditation of Allied Health Education Programs
Commission on Accreditation for Health Informatics and Information Management Education (accredits Health Information Technology)
Commission on Accreditation in Physical Therapy Education
Committee on Accreditation for Respiratory Care
National Accreditation Commission for Early Care and Education Programs
National Alliance of Concurrent Enrollment Partnerships
National Centers of Academic Excellence in Cyber Defense Education
National Healthcareer Association
National Institute for Metalworking Skills, Inc.
Texas Board of Nursing (ADN and VN)
Texas Department of State Health Services
Texas Health and Human Services