Surveying and Geospatial Technology
Do you like working outdoors? Do you like problem-solving and working with technology? If you answered yes, then Surveying and Geospatial Technology is for you.
Surveying is a long-standing and well-known profession that has grown in popularity largely due to high demand jobs and modern surveying and mapping technologies. Surveyors use history, math, science and technology to create detailed maps of towns, cities and communities.
Students in the Surveying and Geospatial Technology program will also train in drone operations, total station equipment, laser scanning and also GPS and GIS systems. The certificate and Associate of Applied Science degree can provide students with opportunities to complete the educational requirements for the Surveyor in Training (SIT) exam. Students will also have work-based learning opportunities in the cooperative education course offered in the Associate degree.
Surveying and Mapping Technician
Engineering Survey Technician
Land Survey Technician
Construction Survey Technician
Get Started at STC!

1-855-Go-To-STC
Contact Surveying and Geospatial Technology Program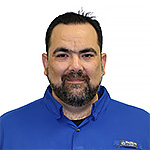 Program Coordinator
Jesus Amaya
Tech Campus A-218
956-872-2768
---
Department Contacts
Javier Reyes
Tech Campus A-227
956-872-2791
Johanna Jimenez
Tech Campus A-212
956-872-6118
Undecided? Explore Career Choices