Police Academy - Basic Peace Officer Certificate
The next night academy starts March 18, 2024.
The application/agility test deadline is January 26, 2024.
The next full-time academy starts July 8, 2024.
The application/agility test deadline is May 31, 2024
Our Law Enforcement Program can bring you closer to a brighter future by preparing you to take the Texas Commission on Law Enforcement (TCOLE) peace officer license examination.
The Full-Time Police Academy is a 22-week program and the Part-Time Academy is completed in two semesters and a 12-week minimester. The academy is both academically and physically demanding, with several major exams, skills tests and an exit agility exam.
Update for Mid-Valley students pursuing a career in law enforcement: In July 2024, we will host our inaugural police academy at the Mid-Valley Campus in Weslaco. Don't miss out on this exciting opportunity—submit your application today.
Police Academy Application Details
Minimum General Requirements
Entry into the police academy is governed by the Texas Commission On Law Enforcement (TCOLE) and South Texas College Police Academy program standards. Following admission to South Texas College, the minimum requirements for acceptance into the Police Academy are outlined below:
Must be 21 years old
Must be a U.S. Citizen
Must have an honorable discharge from the military (if applicable)
Must never have been convicted of a Class A Misdemeanor or above
Not been convicted of a Class B misdemeanor within the last 10 years
Must have a GED or high school diploma
Must submit to a urine analysis
Must complete a Polygraph exam
Must complete a physical fitness exam
Must complete comprehensive medical and psychological screenings
An application for the police academy also needs to be filled out in addition to the application to South Texas College in order to be considered for the program.
Screening
The screening process requires a physical agility test, polygraph examination, psychological screening, medical and drug screening, fingerprint submission for criminal history check and background investigation. There are costs associated with the screenings: polygraph examination $300, psychological screening $275, medical screening $167, and fingerprint submission $10. Financial aid does not cover the costs of the screening or examinations.
Processes
You must submit an application to the academy. Upon submission, you will be given the time and location of the physical agility test. Arrive early so that you can check in. Bring your government issued identification card or South Texas College ID card so that we may verify your identity. Once you pass the physical agility test, you will receive information on where to take the polygraph examination, the medical and psychological screenings, and fingerprint submissions.
Pre-Acceptance Polygraph Booklet
General Entry Standards Additional Disqualifiers Police Academy Information
Physical Agility Test
The physical agility test consists of rowing 2000 meters on a Concept 2 rowing machine with the resistance set to 5. The time that the applicant will need to complete the test will be determined by using a fitness calculator that the DPS website provides:
https://www.dps.texas.gov/ETR/FitnessWellness/concept2RowerCalc.htm
---
Agility Exam Dates:
All agility test will be conducted by appointment after you have submitted the Police Academy application. There is no fee to take the agility test. Please call 956-872-4200 to get more information.
Academy Costs
Refer to Tuition & Fees for details. This does not include the screening fees for the application process. Uniforms and supplies will cost approximately $400. Financial aid covers tuition and books if you qualify. Visit Paying for College for more information about financial aid.
---
The police academy will be open enrollment for those who wish to attend the police academy and apply financial aid, G.I. Bill, or other scholarships toward their tuition. For those persons who are currently employed by a state, county, or city law enforcement agency as a full-time peace officer, tuition waivers apply under Texas Education Code 54.208.
As with the Police Academy Program, Texas Peace Officers who are full-time employees are eligible for tuition waivers under Texas Education Code 54.208.
---
Basic Peace Officer Certificate*
TSI EXEMPT
Plan of Study Grid
First Semester
Credit Hours
CJLE 1506
Basic Peace Officer I
5
CJLE 1512
Basic Peace Officer II
5
 
Credit Hours
10
Second Semester
CJLE 1518
Basic Peace Officer III
5
CJLE 1524
Basic Peace Officer IV
5
CJLE 1429
Basic Peace Officer V
4
 
Credit Hours
14
 
Total Credit Hours
24
*Capstone: Successful completion of comprehensive exam.
Contact Law Enforcement Program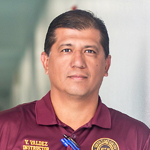 Department Chair
Victor Valdez
Regional Center for Public Safety Excellence 1.002C 
956-872-4201
---
Department Contact
Amy Espericueta
Regional Center for Public Safety Excellence
3901 S. Cage Blvd. Pharr, TX 78577
Phone: 956-872-4200
Questions? Send us a message: