Health and Wellness Centers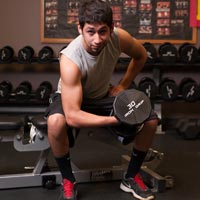 The Health and Wellness Center provides quality programs, facilities and services that promote a sense of community and encourage the pursuit of a healthy lifestyle within positive use of leisure time to a diverse student population.
The Health and Wellness Center is available to current students, faculty and staff with a valid South Texas College ID. Each facility is equipped with a wide variety of fitness machines, from the latest cardio equipment to strength training machines. Group fitness classes will be implemented as needed at each location. No outside visitors are permitted.
How To Join
You must be a current STC Student, Faculty or Staff member.
You must present a current STC Student ID or STC Employee Badge at every visit.
A waiver/release form must be completed at the beginning of every semester.
Each participant must abide by college policies and procedures. Please refer to our Operating Manual for more information.
For more information contact Edward Hernandez II, Coordinator of Kinesiology Instructional Facilities at 956-872- 3727 or by email eherna65@southtexascollege.edu.
Health and Wellness Center Locations:
Mid-Valley
Building C
400 N. Border
Weslaco, TX 78596
Front Desk: 956-973-1047
Mid-Valley Map
Hours:
Mon - Thu: 2:30 p.m. to 7 p.m.

Pecan Plaza
Pecan Plaza - Building B
2515 Pecan Blvd.
McAllen, TX 78501
Front Desk: 956-872-3838
Pecan Plaza Map
Hours:
Mon - Thu: 1 p.m. to 7 p.m.

Health and Wellness Center Rules
All participants must check in before using the facility. A current South Texas College Identification card is required each time you enter the facility. Students must validate their ID card at the Student Information Center prior to using the facility. No children or outside visitors are allowed. No exceptions.
Athletic clothing is required at all times including shirts, shoes, etc. No jean shorts or pants. Closed-toe athletic shoes are required and must be worn at all times. No dress shoes, boots or sandals are permitted.
Lockers rooms are for daily usage only. Locks will be removed if left overnight. Staff is not responsible for personal belongings. All lost and found items will be donated after 2 weeks.
No food or drinks allowed (except water). Glass bottles are prohibited. Please dispose of any and all trash.
In order to ensure your safety and the safety of others, we ask that you wipe down equipment before and after each use. Spray bottles, disinfectant wipes and paper towels are located accordingly.
You must re-rack weights and return equipment to its designated area. Place weights and dumbbells on their designated rack. Use a spotter when necessary. Do not drop weights.
Foul language is strictly prohibited. If behavior is continuous or becomes a disturbance, security will be on hand to escort you off the premises.
All participants must exit the facility promptly at closing time.
Questions? Send us a message: