Centers for Learning Excellence History
South Texas College was created in 1994. In 1995, the Division of Developmental Studies formed a committee to create an area within the school where students could access academic assistance. Two Student Success Centers were initially opened, the first at Pecan Campus and the other at the Downtown Campus.
With the dramatic increase in student enrollment at STC, a critical need arose to establish tutoring centers at all sites. In 1997, Student Success Centers were created at the Mid-Valley, Starr County and Technology Campuses; bringing the total number of Student Success Centers to five. The Student Success Centers were later renamed the Centers for Learning Excellence. Today, STC students attend approximately 25,000 tutoring sessions and 130,000 academic computer lab visits in the Centers for Learning Excellence each semester. The Centers employ over 125 tutors in Hidalgo and Starr Counties at five campuses.
South Texas College commemorates generosity of benefactor with building dedication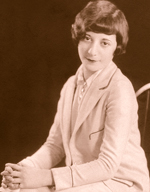 In the early 1920's, five-year-old Sylvia Esterline, an immigrant from Russia, came to America with her family to start a new life on the East Coast in Boston, Massachusetts. As was the case with many immigrants during this time, the family was poor and came to America to seek a better life. Esterline, one of six children, worked for many years in a Boston mattress factory to help provide basic necessities for the family.
It was her marriage to Herman Esterline, an Indiana native, which eventually brought her to the Rio Grande Valley. He worked for more than 30 years as a mechanic for Texaco before working at Calvin Bentsen's Ridgegate Ranch, a job he held for nine years prior to retiring. During their marriage, the Esterlines led a simple life, saving money whenever possible. When her husband passed away, Sylvia became a student of the stock market and kept on top of her investments, executing sound decisions that grew their shared nest egg.
Esterline, who died in 2003, named the South Texas College as the prime beneficiary of her estate, leaving STC $1.9 million. Due to her generosity, the College was able to open the Sylvia Esterline Student Success Center on the Pecan Campus in McAllen. South Texas College commemorated the generosity of Sylvia Esterline at the dedication of the College's state-of-the-art Sylvia Esterline Student Success Center on Wednesday, Sept. 20, 2006. The Center is a 20,000 square foot facility dedicated to offering students a variety of academic support services including tutoring, computer-assisted instructional labs, and open computer access. The College celebrated the building dedication with the unveiling of a portrait of Esterline, which will hang under spotlight in the entryway of the Center.