Health & Wellness Centers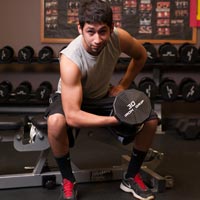 The Health & Wellness Center provides quality programs, facilities, and services that promote a sense of community and encourage the pursuit of a healthy lifestyle within positive use of leisure time to a diverse student population.
The Health & Wellness Center is available to current students, faculty and staff with a valid South Texas College Identification Card. Each facility is equipped with a wide variety of fitness machines, from the latest cardio equipment to strength training machines. Group fitness classes will be implemented as needed at each location. No outside visitors are permitted.
Hours of Operation:
Pecan Location
Pecan Plaza - Building 'B'
2515 Pecan Blvd.
McAllen, Texas 78501
Mon-Thu: 3pm-7pm
Fri: 10am-1pm
Closed Sat & Sun
Front Desk: 956-872-3838
Starr Co. Location
Building 'H' - Room 1.301
142 FM 3167,
Rio Grande City, Texas 78582
Mon-Thu: 1:30pm-6pm
Closed Fri, Sat & Sun
Front Desk: 956-716-4783
Mid-Valley Location
Building 'C'
400 N. Border
Weslaco, Texas 78596
Hours: TBA
Front Desk: 956-972-1047
All facilities will be closed Friday, May 16 - Friday May 29th
For more information please contact Janice Lee Perez, Coordinator for Health & Wellness Centers at 956-872-3839 or by email at jperez1@southtexascollege.edu
Statement of Equal Opportunity
No person shall be excluded from participation in, denied the benefits of, or be subject to discrimination under any program or activity sponsored or conducted by South Texas College on the basis of race, color, national origin, religion, sex, age, veteran status, or disability.
Required Forms
Health & Wellness Center Survey
Take a moment to rate the facility you frequently attend.
Questions? Send us a message: